Walk Schedule
This year, the Walk of Courage Jean-Pagé will be hybrid: a gathering will take place on Mount Royal, with the presence of our honorary president and our ambassadors, and will be accessible live by videoconference so that participants from across Quebec can join virtually. The event will take place between 10 a.m. and 2 p.m.
Event at Mount Royal
Participants from the greater Montreal area, join us on Mount Royal for a pleasant family day, in the company of our ambassadors and in the presence of CF Montreal players who will walk alongside you! You will enjoy the animation, music, picnic area and food service on-site.
DATE: Sunday, June 19, 2022
ENDROIT: Mount Royal Park
POINT DE RENCONTRE: Pavillon at Lac-aux-Castors 2000, chemin Remembrance, Montréal (Québec) H3H 1X2

The event will take place rain or shine!!
EVENT SCHEDULE
9:30 a.m. - Registration opens (You must register at the reception table to get your lunch coupon)
10:00 a.m. - Start of the event
10:10 a.m. - Departure of the walk
10:45 a.m. - Break and turn around at Belvedere Kondiaronk
11:15 a.m. - Return from the walk
11:30 a.m. - Lunch period
1:45 p.m. - End of the event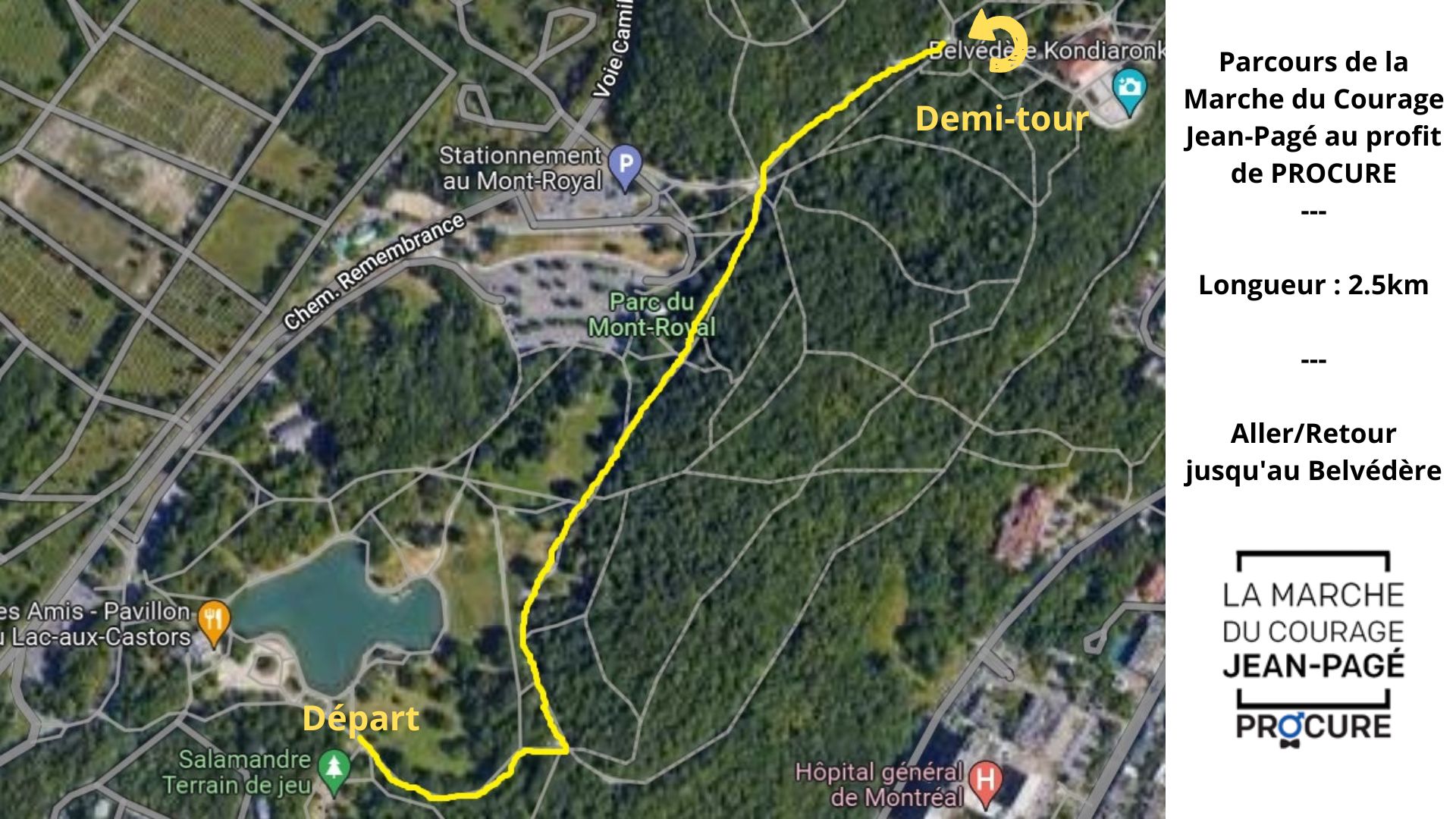 USEFUL INFORMATION
Weather: Rain or shine, the event will take place. We suggest that you follow the weather forecast in order to adjust your clothing accordingly and bring your sunscreen.
Lunch: Register at the reception table when you arrive on-site to receive a lunch coupon (hot dog, chips, cheese, juice).
T-shirt: If you did not receive your t-shirt by mail at home, you can pick it up at the reception table when you arrive by giving your name.
Water: We will have gallons of water on site. Please plan to bring your own reusable bottle in order to fill it.
Payment: There will be no Interac machine on site (no payment by credit or debit card). Please bring cash if necessary.

GETTING TO MOUNT ROYAL PARK
PUBLIC TRANSPORT *BEST OPTION*
Mount Royal Park is easily accessible by public transit. The following transit lines have routes that pass near the meeting point. See the route

BUS: 107 - 11 -

144

-

66


METRO: The nearest metro station is

Atwater

, on the Green line.

BY CAR (PARKING)
There are 4 paid parking lots in Mount Royal Park: two to the west, near the Lac-aux-Castors pavilion, and two to the east, near the Smith house. If you plan to come by car, please note that parking may be difficult. Several sites on Mount Royal are under construction and therefore places are greatly reduced.

Virtual event

Wherever you are in Quebec, join our virtual event. You will be able to talk live with our ambassadors, introduce us to the people you are walking with, watch the opening speech of our honorary president and take part in the unifying atmosphere of this day!

VIRTUAL EVENT SCHEDULE
10:00 a.m. - Start of the event
10:10 a.m. - Departure of the walk
10:30 a.m. - Live discussions with our honorary president Isabelle Pagé
11:15 a.m. - Return from the walk
11:30 am - End of the event

DETAILS TO ACCESS THE VIRTUAL EVENT
You will be able to access the videoconference from Sunday June 19, 2022 at 10 a.m. at the following link:
You will need to download the ZOOM application in advance on the device you will use during the Walk of Courage Jean-Pagé (computer, smartphone, tablet). No registration is required and its use is free.
During our event, we will invite you to speak in order to introduce us to your families or to exchange with our ambassadors. All you have to do is click on the small "hand" icon at the bottom of your screen for our moderator to open your microphone.

Walkers of Courage, we are looking forward to seeing you on Father's Day for a celebration of the men of your lives!